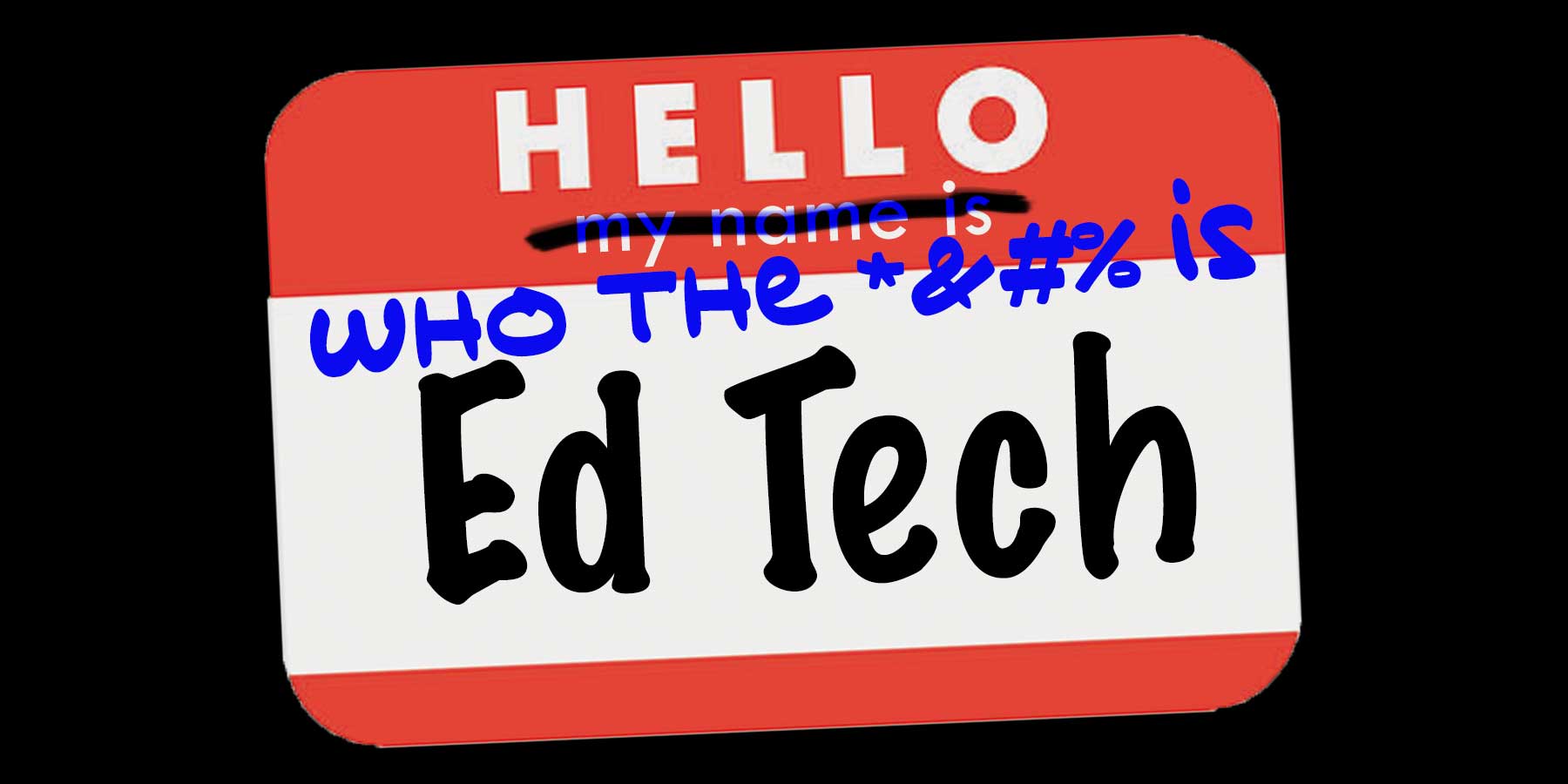 Not the technology itself. Some devices, software, and web apps are being used to make big impacts on student learning. Although it's probably a pretty small percentage of all that stuff.
No, this post is about the term "edtech" itself, along with the phrase "educational technology" from which it is contracted. Somewhere in the past, it might have had some value in the conversation. In 2022, however, edtech has absolutely no meaning. None!
This idea has been a tickle in the back of my head for many years, but it was shoved to the front during the pandemic1 lots more stuff became was pushed into the category.
All of a sudden, Zoom became an edtech product, as did software used to surveil students on their computers at home. Companies that make metal detectors and other physical "security" systems being installed in many schools are also now in the "edtech" business.
Just ask EdSurge, a media company formed in 2011 to report on the burgeoning edtech industry, what's included in this classification. They maintain an index that lists more than 6000 products in 15 categories. Many are from companies who very recently decided they are in the edtech business because there was profit to be made.
So, if the term "edtech" is useless (and it is) in our discussions, what language do we use instead? I have a few ideas.
First, begin by setting a hard line between tools used by adults to manage schools and classrooms, and those used by students for their learning.
You can argue (and many have) that administrative applications like LMS's, electronic gradebooks, plagiarism checkers, and facial recognition systems are essential "edtech" because they help teachers devote more time to working with students.
I will certainly grant you some of that stuff has become necessary to operating modern schools. However, at the core, they are little more than business tools repurposed (sometimes poorly) for educational use. Even under the most generous definition, they're only tangentially related to helping students learn. They are administrative, not "educational".2
After that distinction, we also need better language when discussing the applications used by students.
There should be a clear distinction between "passive" applications, ones that students might interact with but over which they have no control, and "active" tools, used and at least partially controlled by students to guide their own learning.
For the passive category, think services like Pear Deck, Wakelet, NearPod, and others where a teacher creates an activity that kids will use but which only offer them a few options in completing the activity.
Active tech would include many creative tools, including video and audio recording, where the kids work, alone or in collaboration with others, to create a product that expresses their ideas and knowledge.
That's a start to making the conversation more meaning, but why is any of this worth ranting about in the first place?
Well, we are regularly told that words – the language we use to discuss ideas – are important. Calling anything that might come within 50 feet of a school building "edtech", confuses the conversation around how technology might be used to improve student learning.
The misuse of language also impacts how schools and districts spend their money. Calling everything affiliated with a computer "edtech" often leads to questionable buying decisions, something I saw a lot of during my time in the overly-large school district.
Bottom line, we need to have a better, more nuanced discussion about how we use technology in the classroom. Without employing lazy, meaningless terms like "edtech".
I'm not asking for much.
---
The wonderful image was created by Alan Levine using a public domain image from Wikimedia Commons. I'm reusing it here under a Creative Commons license, and I don't think the CogDog would mind.
1. Which, at this point in time, I don't believe has been declared at an end by the medical professionals who understand these things.
2. This is my post. That's my judgement. Moving on.