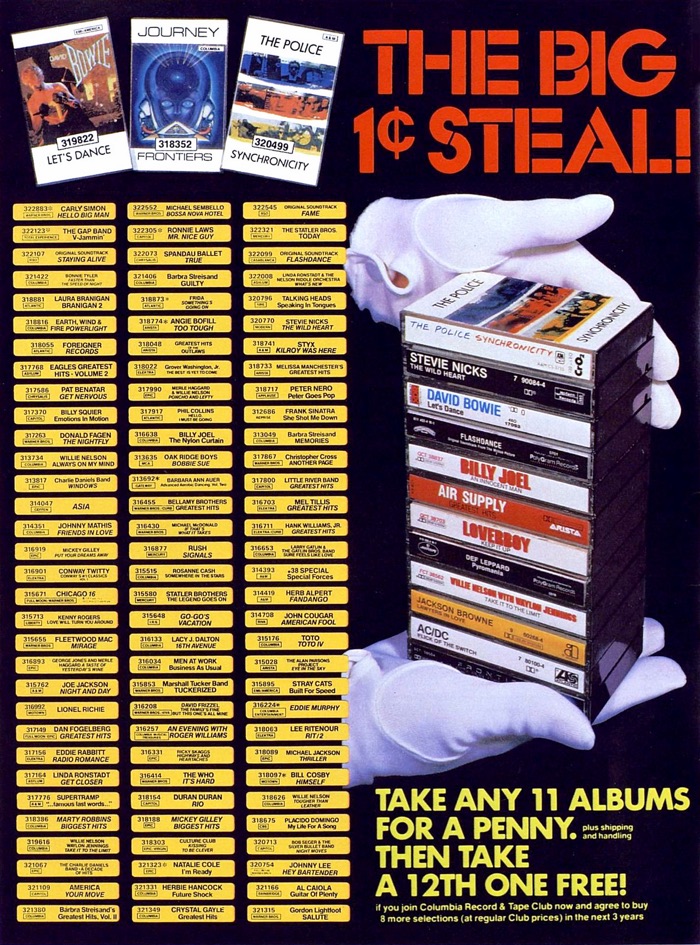 This is just some trivia for the winter break. A fun little piece of nostalgia for those of us in a certain age range.
An article in Grunge, a website that celebrates "the wild, fun, and bizarre things about the world around us", asks Whatever Happened to Columbia House?.
I can't say I was really wondering about it, but I certainly remember the business.
Columbia House began as Columbia Record Club in 1955, and it was an experiment to get a feel for how the public would respond to marketing music through direct mail. The idea was to give away one record to anyone who chose to become a member of the club, and they then committed to buying a certain amount of records in the future. The idea was a hit, and by the end of 1955, the company reportedly had 128,000 members. Seven years later, Columbia House delivered some 7 million records to members, and by 1960, it accounted for 10% of all sales spent on recorded music.
When I decided to take the plunge, the offer was similar to that in the ad at the top of this post. Pick anywhere from eight to twelve tapes, later CDs, from a list that sometimes covered two or three magazine pages for just one cent.
Of course, there was a catch.
But at the heart of Columbia House's success was another tactic. The idea was to get customers to sign up for free records, tapes, or CDs and agree to buy a few more later on, plus the cost of shipping. Former Columbia House employee and New Yorker pop critic Sasha Frere-Jones explains to A.V. Club that the idea was "brilliant" and "perverse," noting that all consumers had to do was tell the company not to send them records, but if they didn't remember to do that, the company would charge them for something else. This is called a negative option business model, and it is popular among subscription services.
Yep, if you forgot to return that postcard within ten days of getting the monthly catalog, they sent you something, along with a bill for full price, of course. That "negative option" was very profitable. For a while.
Although I may have tried Columbia during the time of tapes, I certainly remember being a "member" in the mid to late 80's when they switched to offering CDs. I think my offer was to get 12 discs for a penny. I don't remember how many I had to buy after that but I still have some of them, including several boxed sets I got during one of their frequent "sales".
I have no idea how much money I sent to Columbia (I may have also subscribed to a competing "club" at one time) over the years but we certainly piled up a bunch of CDs in the house. Most of which were played once or twice and then forgotten, especially my wife's classical albums.
Today, like most music consumers, I pay a monthly fee to stream almost anything from the cloud. Renting songs instead of owning physical media.
And instead of doing the Rip. Mix. Burn. from that physical media to make digital playlists, as Apple told us to do in the early part of this century.
Just one more piece of music nostalgia that probably needs to be forgotten.
---
The graphic, one of many ads for the Columbia Record & Tape Club found in magazines during the 70's and 80's, is from a 2015 article about the company filing for bankruptcy.