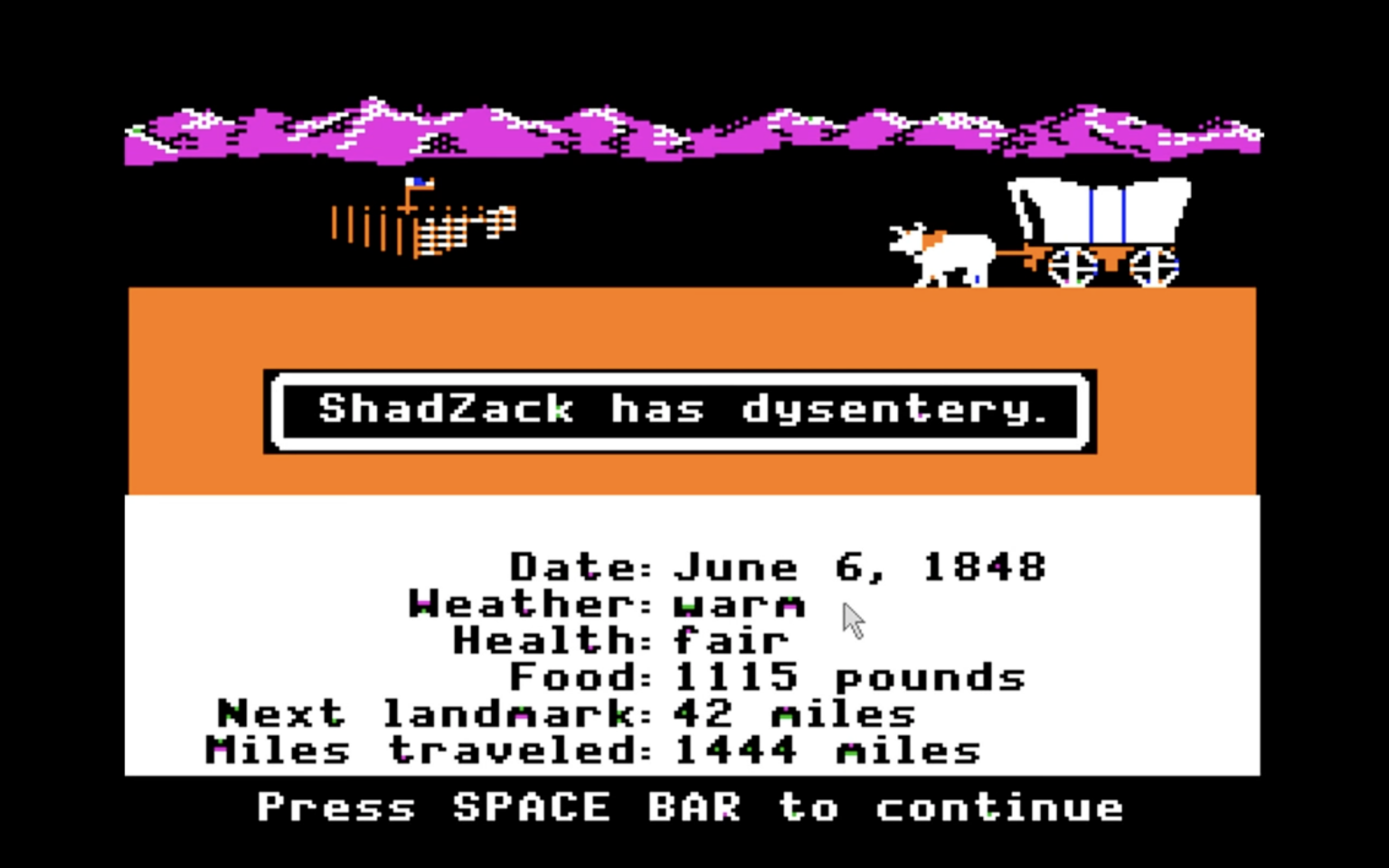 For those of you who have been around instructional technology for a while, this may offer some warm, fuzzy nostalgia: the classic game Oregon Trail recently celebrated it's 50th birthday.
The game actually started life as a "dice-and-card game, laid out on a long butcher paper", the creation of Don Rawitsch, a student teacher looking for a way to help his students understand the unit on the US westward migration.
Two of his college roommates thought the game would be great as a computer simulation and, in less than two weeks, the three of them had the first digital version running on a teletype connected to a mainframe computer.
But the iconic version of Oregon Trail, the one that most of us old-timers remember and first embraced, came a few years later, published on 5-1/4" floppy disk for the Apple ][ by the Minnesota Educational Computing Consortium (MECC). It was a huge hit.
Teachers began taking notice. The game quickly became MECC's most popular title. As desktop computers began to sprout in classrooms, MECC spun off a for-profit company that sold millions of copies of The Oregon Trail and other early titles nationwide. 

A new generation of coders added graphics, sounds, and music to create the versions of The Oregon Trail that most kids have played since. By then, Rawitsch had moved on, but in 1995, a decade after the game first appeared on Apple II computers, MECC President Dale LaFrenz told an interviewer that The Oregon Trail accounted for about one-third of MECC's $30 million in annual revenue. One estimate has put the total number of copies sold at more than 65 million.
Unfortunately, the trio that created the original game never received a dime for their work. But they have no regrets and are proud of their work.
In interviews, none of the three — by now all hovering around retirement from careers in teaching and tech — expresses any bitterness about the way things turned out. If not for MECC, Rawitsch said, the original game would have had no home at all, with no way to convert it a few years later from mainframe to PCs. The consortium's subscription system also made it possible for the game to find fans among students and teachers nationwide in the 1980s and 1990s.
Read the whole article. Even for those of you who started in education long after MECC disappeared, this is an interesting story about a foundational application for the instructional technology we have now.
And you can still experience Oregon Trail in all it's original 8-bit glory on the Internet Archive. Newer versions, with better graphics and sound, are also available for modern computers, smartphones, and tablets.
---
The classic way to die along the Trail was, of course, by contracting dysentery.