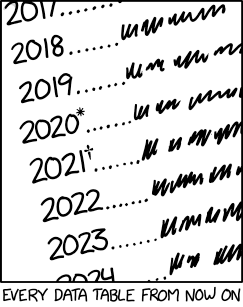 According some education "experts", the SAT isn't as vital as it used to be since the number of colleges requiring students to submit scores with their application is in "rapid decline".
But leadership here in the overly-large school district seems not to have gotten the message.
In a press release this week, the superintendent wants everyone to know that the most recent graduating class "continued to perform well above state and global averages on the SAT, according to results recently released by the College Board."
Or at least a subset of graduates, since far fewer kids even took the tests (a drop of about 1/3 in Virginia) last year in the middle of a raging pandemic.
However, there's some context always missing in these announcements related to the SAT numbers: Do the scores actually mean anything?
Does a high score on the test correlate with student success in their academic experience after graduation? Is there a negative correlation with a low score or with skipping the test altogether?
I'm sure the College Board has some data they say validates their tests. But I've never seen much information from school districts like ours that actually follows up with large numbers of students after they leave.
They are certainly happy to post all kinds of statistics like average SAT scores and the number of Merit semifinalists, but rarely look closely at what all those numbers means in terms of people.
For that matter, it would be interesting to have some data concerning whether the education received while attending Fairfax schools actually prepared graduates for whatever they chose to do in their post-high school life. Especially those who drop out.
I have no doubt that the majority of kids who attend our schools will lead very productive lives after they leave FCPS. But how much of that is due to the fact that we live in one of the wealthiest areas in the country and most come from stable loving homes? Where many parents are willing and able to spend a lot of money on support like SAT prep resources and tutors for AP classes.
And what about the kids whose families can't afford that kind of assistance and fall below the high numbers in the bragging documents? 
The super would like everyone to think we're living in Lake Wobegon. But not all children are above average when it comes to the very narrow and questionable tool that is the SAT.
---
From the wonderfully smart XKCD web comic, and it's creator Randall Munroe, comes a reminder that all statistics from this year and last need to come with many caveats. Possibly 2022 as well.