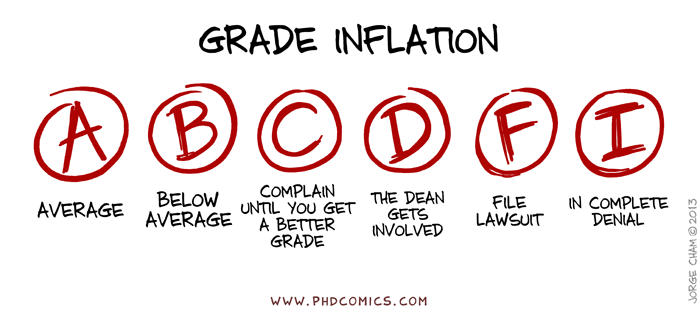 Education reporting in The Washington Post is very often tone deaf (see also almost everything from Jay Mathews). It has been especially so during the pandemic.
A recent case in point is an article based on statistics from the overly-large school district with the blaring headline "Failing grades spike in Virginia's largest school system as online learning gap emerges nationwide". A similar story a week later declares "Failing grades double and triple — some rising sixfold — amid pandemic learning"1, followed today by yet another article about failing grades in another Northern Virginia district.
A report on student grades from one of the nation's largest school districts offers some of the first concrete evidence that online learning is forcing a striking drop in students' academic performance, and that the most vulnerable students — children with disabilities and English-language learners — are suffering the most.
 
Fairfax County Public Schools in Virginia, which has been mostly online since March, published an internal analysis this week showing that, between the last academic year and this one, the percentage of middle school and high school students earning F's in at least two classes jumped by 83 percent: from 6 percent to 11 percent. By the end of the first quarter of 2020-2021, nearly 10,000 Fairfax students had scored F's in two or more classes — an increase of more than 4,300 students as compared with the group who received F's by the same time last year.
There is so much cluelessness in those two paragraphs – and all these stories – that it's hard to know where to begin. But let's start with a question:
Why the hell are schools passing out grades, much less "failing" ones, during a pandemic?
When the abrupt change to online schooling happened last spring we were told by so many people that everything had changed.
Except that wasn't true. At all.
Instead of trying to understand the virtual environment and finding ways to adapt, schools made every effort to replicate the "normal" classroom experience in LMS's and videoconferencing windows.
They kept the same curriculum, maintained as much as possible the traditional school day schedule, took attendance (to the point that some students were marked absent for not turning on their cameras), gave the same assignments with the usual deadlines. And teachers were told to continue with the same, extremely flawed assessment system.
Thus, following the end of the first quarter, we get this flood of district reports on the grades issued. Stories that present the data with little to no context beyond a few anecdotes and quotes. And these in the Post are just a sampling of the hundreds, maybe thousands of others about how students are "falling behind".
Ok, I don't doubt at all that the "academic performance" of most students is below what it would have been if the pandemic hadn't forced teachers and students into online schooling. But the pandemic did happen and the rest of the world was forced to adapt. Except, as I said, not the process and structure of schooling.
However, is "academic performance" the most important consideration for schools and teachers right now? And why are we still rating kids work the same way during a world-wide emergency? Using a system that was artificial and an inadequate measure of "learning" in the first place?
Look at the human beings behind all those district numbers and you'll find that most of those kids labeled as "failing" likely had far more important concerns than solving a few dozen algebraic equations or trying to understand the motivations of a Shakespearian character. Many probably don't have the technology necessary to connect the way school expects. Even if everything at home reflects a 21st century Nelson family2, their lives have still been disrupted and made incredibly difficult.
Looking at the bigger picture, grades are not the same thing as learning. They are simply a measure that schools have agreed on to provide a convenient (and very artificial) way to rank students. Grades are almost always assigned for student "work" that has little connection to their lives (or possibly anything done by anyone in the real world) and are often a poor representation of their actual learning.
Anyway, rather than continuing to distribute "failing" grades during a national emergency, maybe we should take some time to reevaluate the entire system by which we assess student "progress" during their time in school. Including what we ask them to learn in the first place.
At the same time, maybe we can also help education writers produce better stories, ones that make clear that "doing work" is not the same as learning, and letters on a report card are often not an accurate representation of that learning.
---
The image, titled "What grades really mean", is from the online comic PhD Comics, which has been quiet since the beginning of 2019. Evidently the artist, Jorge Cham, has found paying work.
1. To be fair to education reporters, headlines are normally written by editors and sometimes differ between the online version and the printed version. They are often changed if the paper gets a lot of blowback on the original.
2. Look it up, kiddies.